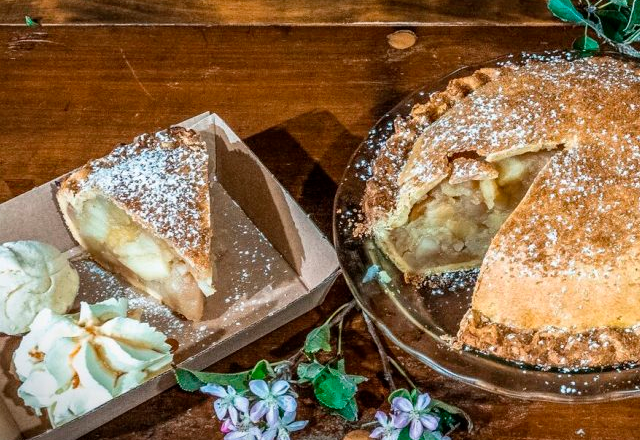 Why has Sutton's apple pie become so popular? We believe it reflects the whole ethos of our business. One that reflects good, honest, genuine food – from the earth and in this case hand made with love and respect for the apple. No processed products are used in its production, a quality appreciated by hundreds of customers every week.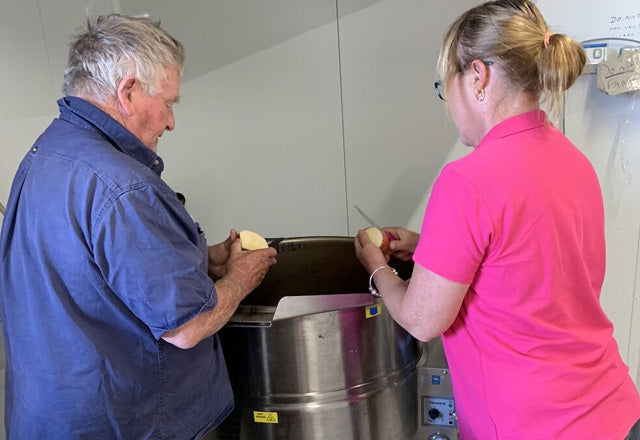 Making our famous apple pies is very labor intensive as they are totally hand-made right here in our kitchen. We peel and cook the apples straight from our trees from February to May. During the other months we use freshly stored apples from local orchards located within 10kms of our café. Many different varieties of apples are used in our apple pies and we may cook up to 800kgs in a week.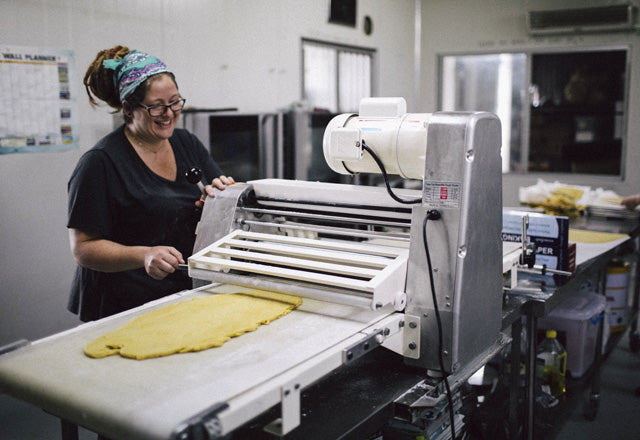 The pastry used to make the apple pies is made weekly in our kitchen from Australian raw ingredients including pure unsalted butter. We make enough pastry for up to 160 apple pies at a time. Making and cooking the apple pies every day or every second day is a labour intensive and time consuming process. Three commercial ovens are used to cook the pies.
Since April 2017 we have made take-away whole apple pies and for those who would like a single serve, they can purchase this ready to warm at home.
Made by hand, for you, from farm to plate.
Opening times

We are open seven days a week from 9.30am til 4.30pm. 

We are closed on three days each year, Christmas Day and Boxing Day, (25 & 26 December), and the Stanthorpe Show Holiday which falls at the end of January.

Getting Here

Our orchard is situated 10 minutes drive north of Stanthorpe, or 47km south of Warwick, on the corner of the New England Highway and Thulimbah Road (previously called Maryland Road) in Thulimbah. We are located diagonally across the New England Highway from the 'big apple'.

For the Children

Children are welcome at Sutton's Farm and we have a few activities they might enjoy whilst here.  If the weather permits, a picnic blanket under the tree's to enjoy the outdoors might suit.  We have chickens and some space outside to run around.

Inside the cafe we have old fashioned school desks with drawing supplies and activity sheets.