The Sutton's Farm Story
David and Ros purchased a traditional apple and stone fruit orchard in 1994 after selling the prawn trawler they had owned and worked out of Lucinda in North Queensland for sixteen years. Learning a whole new industry was aided by the previous owner and they soon added raspberries and blackberries to the business. All three of their school age children became berry pickers during the height of berry season which coincided with the summer school and then university holidays.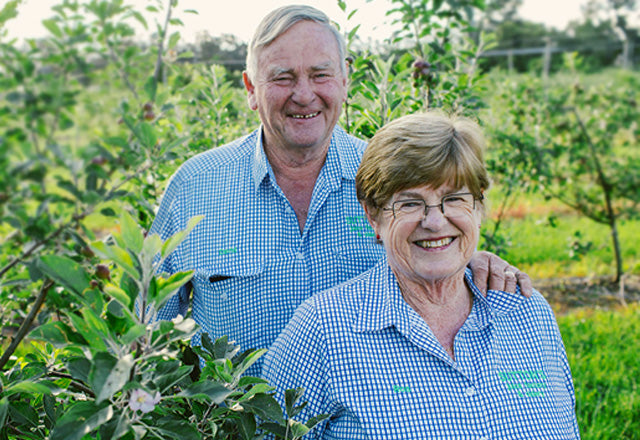 Farmers Markets
By the year 2000 Farmers Markets in Brisbane and the Gold Coast had sprung up providing a new outlet to sell apples, berries and stone fruit direct from the farm to the consumer. Attending these markets became a weekly event for the next nine years. Again it was a family affair with their children giving up their Saturday mornings from University to help Mum and Dad sell fruit and value added products at the markets where customers appreciated buying products directly from the farmer and his family.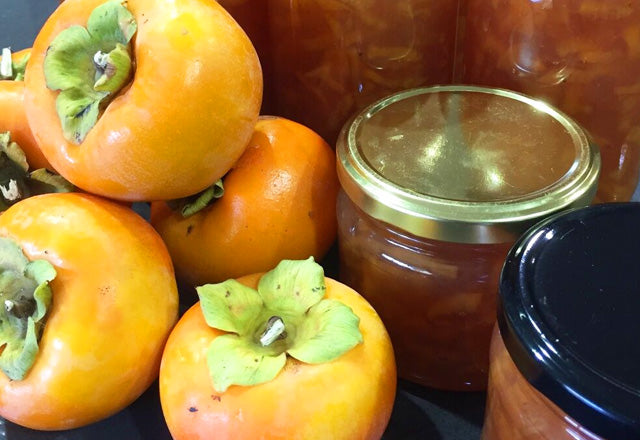 Innovation
During this time Farmer Dave, as he became known, refined his manufacturing skills to produce apple juice, apple cider, apple cider vinegar, apple syrup, apple brandy, liqueurs and preserves. From small beginnings the farm packing shed gradually evolved into the shop and café it is today. Remaining true to the philosophy of preservative and additive free, from the farm and Granite Belt all products and café food are made on site keeping in character with a genuine farmhouse style of product.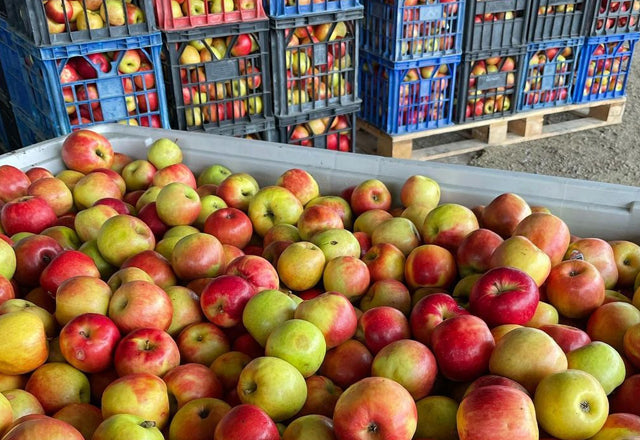 Farm to Plate
Being located on a genuine working orchard it is only natural that David and Ros follow a "Farm to Plate" philosophy. Both dessert and cider apples are grown on the orchard with an increasing variety of cider apples planted in recent years. This allows for apples to be picked and processed at the peak of freshness.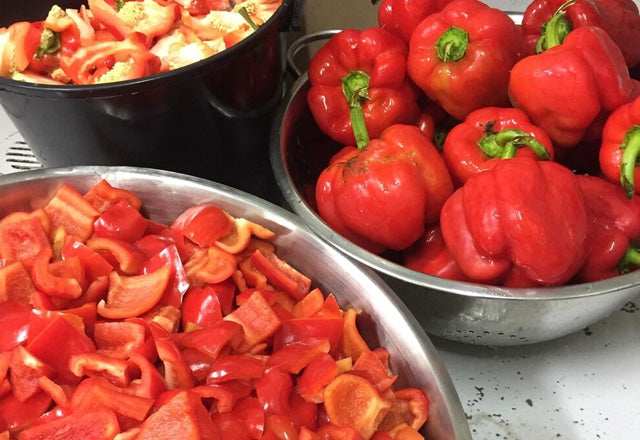 Fruit and herbs grown in the café garden and orchard provide produce for the kitchen. Vegetables and fruit grown on the Granite Belt and to a lesser extent, Queensland, ensure that only the freshest of produce is used in the continually changing café menu items. Sam from Sam's Fruit and Vegetables shop at Cottonvale is a valuable source of local produce produced by smaller Granite Belt growers.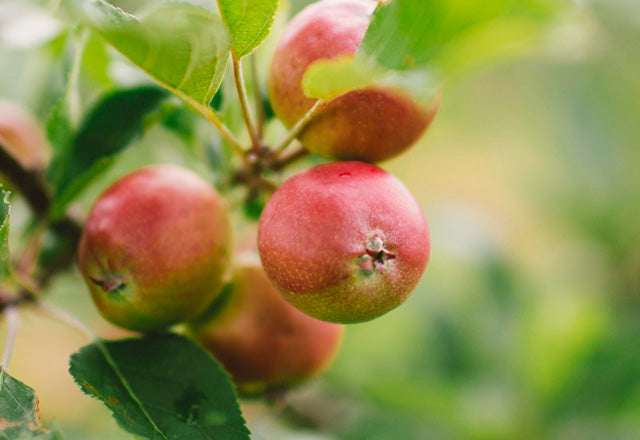 Our Apples
When Sutton's purchased the orchard it was an apple and stone fruit orchard producing fruit that was sold through traditional markets. Today it is an apple orchard growing both dessert and cider apples. Dessert varieties include: Royal Gala, Granny Smith, Fuji, Mutsu, Jonathon, Pink Lady, Sundowner and Lady William.
Many varieties of cider apples were trialled to determine which were suited to the Granite Belt climate and soils. Those that grew successfully include:
Small quantities of other fruit are grown on the orchard and in the café garden for use in the preserves and café food. These include: apricots, peaches, mulberries and figs.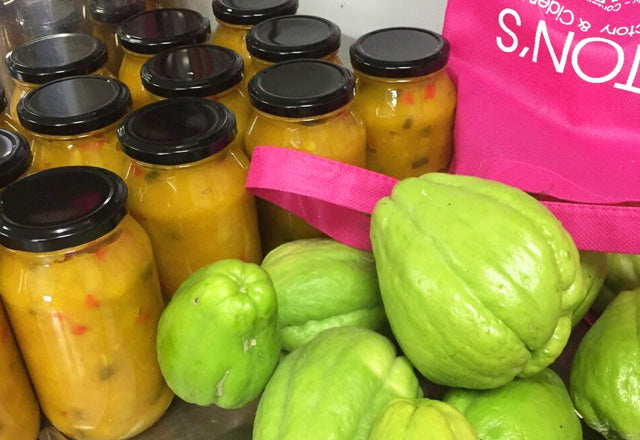 Our Products
All value added products are handmade on site at Suttons by David. Apples used in the products are picked straight from the orchard during the apple season from February to May. At other times, apples for processing, are purchased directly from local farmers who grow the apples on orchards within a 10km radius of Sutton's orchard. Other fruit used in processing comes from the café garden, orchard, Granite Belt or Queensland. The quality and quantity of fruit and vegetables is totally dependent on the climatic conditions each season and this dictates the quantity of our supplies.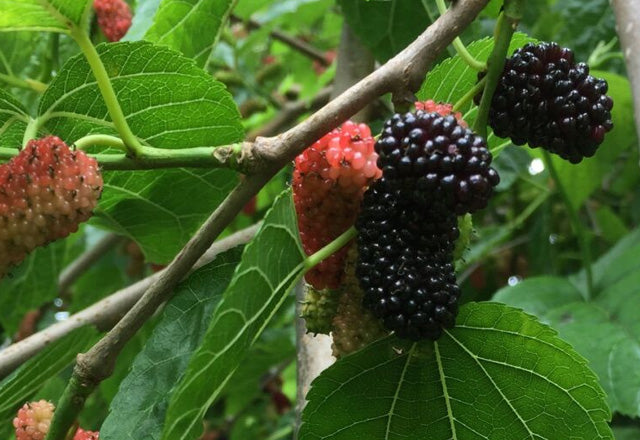 All juice made at Suttons is one hundred percent pure without the addition of preservatives, additives, water or concentrates. Juice from other fruits and vegetables is freshly pressed as required. Once juice is pressed it is either bottled and pasteurised or fermented into apple cider. Apple cider vinegar with 'mother of vinegar' is fermented naturally from apple cider. Our apple cider is also used to distil our Spirit of the Apple. At Suttons we make apple syrup. It is simply reduced apple juice which is concentrated to retain the lovely rich, fresh flavour of the apple.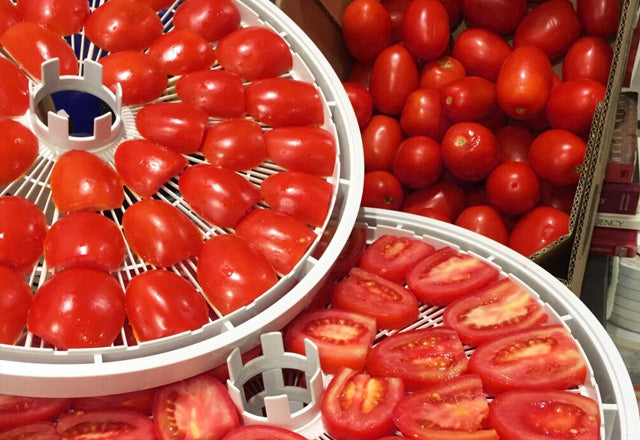 The recipes used in our preserves are old fashioned traditional recipes that have been in use for generations. Many of the preserves are based on apples and they are made without the addition of pectin, preservatives, artificial colours or flavours and additives.
Our apple preserves include: apple jelly, apple butter, apple chutney, apple sauce, apple and berry fruits, apple and citrus fruits.
We also make tomato sauce and tomato relish from Granite Belt tomatoes. When browsing our shop shelves, you will notice our limited edition preserves which we make when we have small quantities of fresh seasonal fruit and vegetables. You may find pickles, chutneys and our very popular cumquat marmalade made from cumquats grown in the café garden.